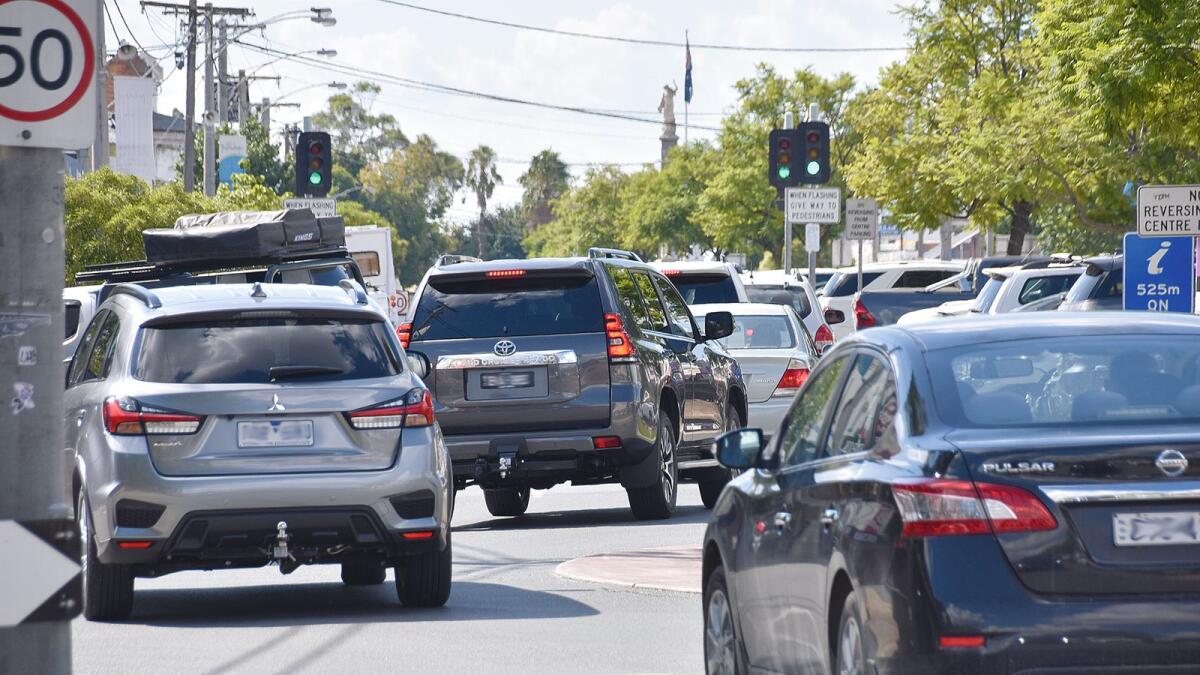 Traffic congestion on Belmore Street, Yarrawonga is likely to get worse with a $1.5 million project by Regional Roads Victoria aimed to improve safety to be completed in the next two months.
A reduced permanent speed limit of 40km/h, installation of multiple pedestrian zebra crossings on all five intersections along Belmore Street and several speed cushions will be installed.
Businesses along Belmore Street were only notified of the works with a flyer just last week by Regional Roads Victoria (RRV) who will immediately begin the project next week, March 28.
These works, which aim to improve the street for all road users and pedestrians, are believed to be part of a bigger project to divert trucks away from the main street.
The project will take approximately eight weeks around one of the busiest times of the year for Belmore Street traders, although works will pause over Easter and the school holidays.
Member for Northern Victoria Mark Gepp confirmed the works this week saying crews will rebuild a 400-metre section of the road between the Yarrawonga-Mulwala Bridge and Piper Street, providing a smoother, safer surface for all road users.
"These works on Belmore Street will provide all road users with a smoother, safer journey while also improving the safety of pedestrians in the heart of Yarrawonga," Mr Gepp said.
North East Water are currently completing the replacement of water mains in sections of Belmore Street from the Yarrawonga Mulwala Traffic Bridge to Piper Street.
Improvement works will also include the resealing of parking bays in this area through co-operation with Moira Shire Council.
The final component of works involves the delivery of a suite of safety improvements in the Yarrawonga central business district.
This includes:
Implementation of a safer speed of 40km/h on Belmore Street from McNally Street to the Yarrawonga Mulwala Bridge.
Installation of pedestrian zebra crossings at the five intersections of McNally, Orr, Piper and Witt streets and on Irvine Parade.
Speed cushions installed on approaches to Belmore Street in Orr, Piper and Witt Street.
Improved signs and linemarking, including signs advising heavy vehicles of the height and width restrictions of Yarrawonga-Mulwala Bridge.
Mr Gepp said the $1.5 million project will involve replacing 3,400 tonnes of asphalt using a sustainable mix of the product called Reconophalt.
"The Yarrawonga CBD is also an area of high pedestrian activity, especially during school holidays and other peak tourist seasons, so this work to improve pedestrian safety on Belmore Street is vital.
"We're delivering expansive improvements on roads across northeast Victoria as part of this year's massive road maintenance blitz, bringing safer journeys to everyone travelling on our roads and supporting jobs on the ground," Mr Gepp said.
Moira Shire Council Director Infrastructure Services Josh Lewis said council has been working with Regional Roads Victoria (RRV) and North East Water to ensure a timely delivery of important maintenance works on Belmore Street.
"We are contributing to the funding for the resealing of the parking bays in this zone only; RRV is the responsible authority for all works including the removal and replacement of road pavement from the Yarrawonga-Mulwala Bridge south to Piper Street," Mr Lewis said.
"These works will make Belmore Street safer for both pedestrians and vehicles."
The Chronicle spoke with several business owners who wished to not be named but were concerned that the safety measures looking to be implemented could actually work in reverse with increased traffic congestion as a result of many more zebra crossings.
"We already have a traffic light pedestrian crossing between Piper and Orr Street which works well. Why put more zebra crossings on intersections on either side of this traffic light crossing and on top of roundabouts?" one business owner said.
Another business owner agreed; "Vehicles will constantly be at a standstill on these roundabouts.
"I am all for improving safety down Belmore Street but it would have been nice to have a more common-sense approach with consultation.
"Consultation with business owners and various stakeholders in the community would have highlighted any congestion concerns before the project was planned. It appears this is not going to happen now and Regional Roads Victoria are just going to do it anyway."
The Chronicle have asked RRV for comment about the project including the question; is any parking on Belmore Street to be lost on the project's completion? And if there was any public consultation sought about the project prior to its commencement next week? RRV had not responded to the Chronicle's requests prior to going to print.
The RRV flyer given to businesses last week stated that at times during the works lane closures and detours will be required. During the work there will also be limited access to car parking bays on Belmore Street during some stages of the construction. Motorists are advised to use off-street parking options where available. Pedestrian access to businesses on Belmore Street will be maintained at all times.
"Please look out for signs and allow extra time. We appreciate your patience while we complete these works," the flyer stated.
For regular work updates, visit the RRV website (https://regionalroads.vic.gov.au) and search for Belmore Street Yarrawonga safety improvements.