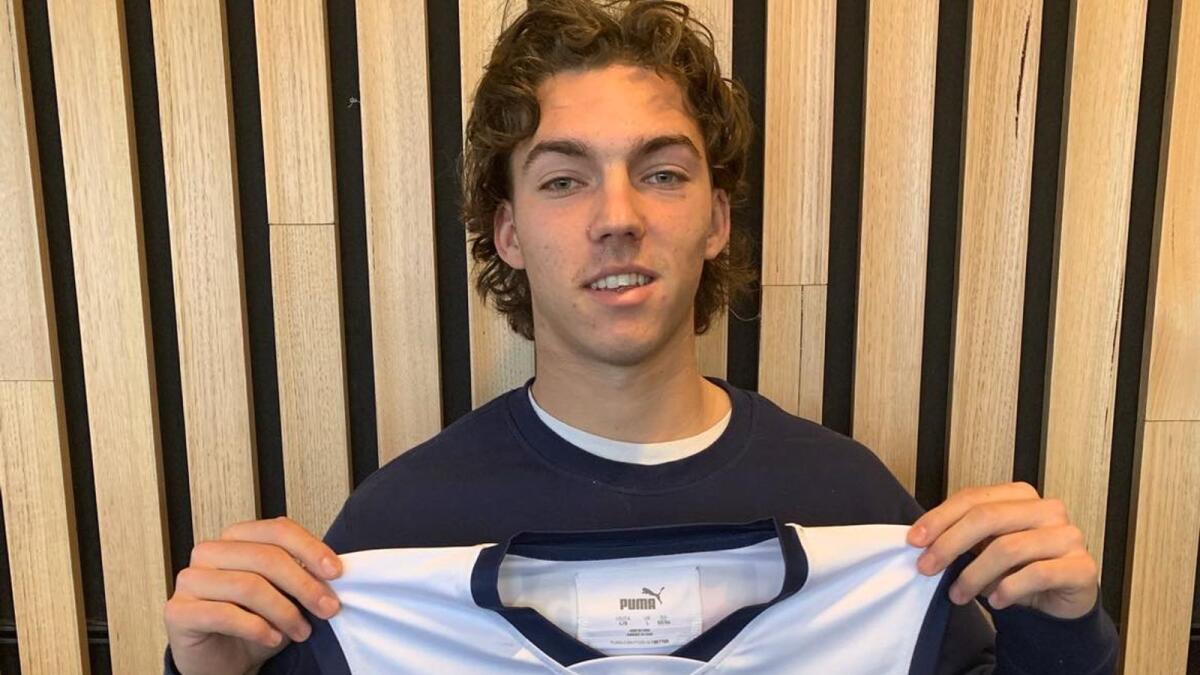 Kyabram's Charlie Barnett was part of Vic Country's two point opening round win against South Australia in the opening round of the NAB Under 18 National Championships in Adelaide on Sunday.
He was playing alongside Tongala star Harley Reid and Echuca's Noah Long, the jet setting trio boarding another plane later this week for the second round of the titles in Queensland.
Vic Country has a home match (at Geelong's GMHBA Stadium) on Sunday, July 17 against West Australia before as September AFL finals week appointment with Vic Metro.
Barnett accepted his second Big V jumper at the final training run of the state team last week before appearing in Sunday's opening round of the titles.
He will line up again for Vic Country when it contests round two of the championships this Sunday at The Gabba, against the Allies. A week ago the Allies were beaten by South Australia, by 37 points
Barnett's family is flying into the Gold Coast on Sunday morning for the school holidays and - on landing - will immediately drive to Brisbane for the match, after collecting a rental vehicle.
The 17-year-old, who will be 18 in late August, was recently named in the final 28 member Vic Country squad to contest the four rounds of the titles between July and September.
He was selected in the 23 to travel to South Australia last week and yesterday he was told he had kept his place in the team, alongside Reid and Long.
The trio were involved in a thrilling finish at Thebarton Oval in Adelaide on Sunday, the Vic Country team winning 9.8 (62) to South Australia;s 8.12 (60).
The Gabba match again will be shown live on the AFL website.
Barnett played mostly on the wing, and later in defence, while Reid had a terrific second half in defence and finished with 21 possessions, along with 10 marks.
Barnett, Reid and Long have left a large hole in the Bendigo Pioneers line-up, which suffered a 69 point loss third ranked Tasmania on the same day.
This weekend the Pioneers, who are the 12th ranked team in the 18 strong NAB League with one win and a draw from eight matches, face fourth ranked Geelong Falcons.
Barnett, a Kyabram born and bred mid-fielder, is making his second appearance for the state, having earned a spot in the 2019 Under 15 Victorian team which contested the national titles in Launceston.
He has shared football and cricketing fields with both Echuca's Long and Tongala's Reid throughout his primary and secondary school sporting commitments.
Barnett is now a boarder at Xavier College, where he is completing year 12, and gained selection in the final Vic Country squad after performing well in two trial games more than a week ago at Werribee.
Along with Long and Reid, a third close connection is Kyneton's Jack O'Sullivan, who is also in the team.
O'Sullivan is another Xavier College product and was a roommate of Barnett in his first year of boarding in 2021.
Barnett started the 2022 season by playing four games for the Bendigo Pioneers, appearing mostly in a midfield role and occasionally up forward.
He kicked three goals in those matches and was among the team's best in its opening round match at the Queen Elizabeth Oval in Bendigo.
His school football commitments at Xavier College have taken precedence since then, the Associated Public Schools competition considered one of the breeding grounds of future AFL stars.
He has played seven games with the college team this season, which sits fourth in the 11 school competition with five wins.
The final four games will be completed by mid-August, when a relaxing of commitments to the school and Pioneers may allow the teenager to play with Kyabram in the Goulburn Valley - depending on his Vic Country commitments.