Top Cats continue dominant Heathcote league season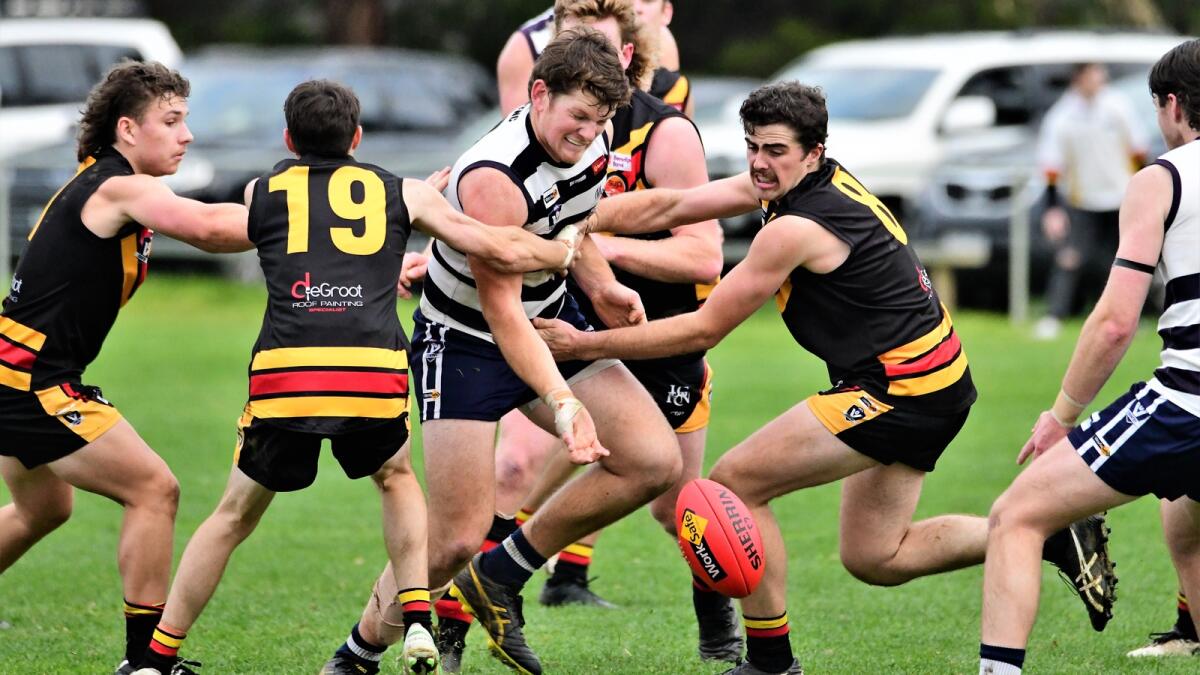 Lockington Bamawm United has maintained its hold on top spot on the Heathcote District League ladder with a dominant 91-point win over Leitchville-Gunbower on Saturday.
In a clash that saw the team in first take on the side in last, the Cats were simply far too good for the Bombers as they claimed their 10th win of the season so far.
Taking on its league rivals, LBU put any thoughts of a colossal upset to bed early with a commanding first term that saw it kick eight goals to L-G's one.
Up by 53 points at the main break, LBU built on its lead with a 10-goal-to-four second half to cruise to a comfortable 15-goal win.
Cats coach Brodie Collins said it was a pleasing performance from his side.
"It was a good all-round performance, everyone played their part," Collins said.
"I'm always happy when we kick more goals than points, that was pleasing for sure.
"We got our hands on the footy first. We played our style of footy from the start and got going, and from there momentum took us forward."
Thomas Leech booted six majors for the Cats, while Jarod Bacon and Anthony McMahon kicked five and four goals respectively. Billy Hawken was L-G's leading goalscorer with three.
For the Bombers, a win was always going to be a tough ask against powerhouse LBU, but L-G coach Tim Bannan said he thought it was his side's best of the season.
"It was probably our best game of the year performance-wise," Bannan said.
"I think we stuck to our structures a lot longer. I think our pressure was fantastic, and we did it for an awful lot longer during the game rather than just stints of just four or five minutes."
Youth was one of the themes of the game, with both sides debuting a number of youngsters.
Cooper Mitchell, Shane Bell and William Ross played their first senior games for the Cats, while Hayden Hegarty and Beau Trahar also made their debut for the Bombers.
"We played three first-gamers, which was really cool," Collins said.
"We had seven guys running around under the age of 20. We had a young side, which was good experience for those guys. Hopefully they learned something from it and can become better footballers."
Bannan said he was impressed with how his debutants played.
"They did really well, I'm looking forward to them playing seniors with the club over the next few years," he said.
Their was a sombre moment at Lockington on Saturday, with both clubs paying their respects to LBU trainer Chris Fowler who sadly passed away last week
"It was special for people to be able to pay their respects to Chris on Saturday and raise some money for his family," Collins said.
"He was an all-round good guy. He was part of our community and we can hopefully help his family in a time of need."
The game
Lockington Bamawm United: 8.3, 12.4, 16.6, 22.8 (140)
Leitchville-Gunbower: 1.1, 3.5, 5.7, 7.7 (49)
Goals
LBU: Thomas Leech 6, Jarod Bacon 5, Anthony McMahon 4, Marcus Angove, Rhys Woodland 2, Nathan Bacon, Jeremy Mundie, Tyler Phillips
L-G: Billy Hawken 3, Mitchell Candy 2, Bailey Taylor, Liam Hogan
Best
LBU: Harley Cobb, Thomas Leech, Nathan Bacon, Tyler Phillips, Baxter Anderson, Cooper Mitchell
L-G: Blake Azzopardi, Billy Hawken, Leyton Shenfield, Jobee Warde, Hoby Bussey, Nathan McLellan