Farmers protest wind farm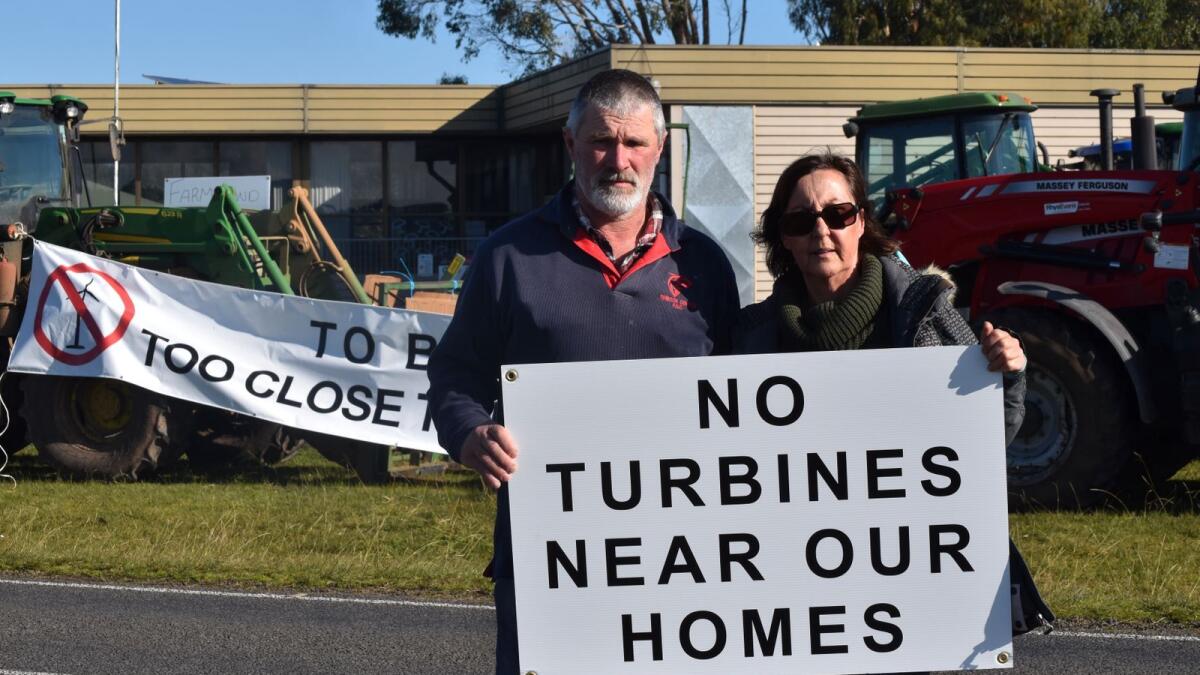 Dairy farmers are among those protesting a proposed wind farm on prime agricultural land in south-west Victoria.
The farmers rallied to protest the wind farm on June 18, by taking about 15 tractors decorated with placards to the Ecklin Community Hall where the company proposing the Mumblin Wind Farm was holding drop-in meetings with locals.
Glenfyne dairy farmer Dennis Rosolin said the turbines were too close to homes, would take away prime agricultural land and be an eyesore.
"We're not opposed to wind farms, just the location," Dennis said.
There is a worry some farmers won't be able to use fertilisers in the spring because of the blades and that buffer zones (a one kilometre exclusion zone between houses and wind turbine developments) will impact on adjoining farms.
The tractor rally was organised by the Ecklin-Elingamite-Glenfyne Community Association Stop Mumblin Wind Farm group.
The group is objecting to the proposed location on the basis the turbines will impact on farming operations, damage the rural lifestyle, threaten swamps and local birds, and reduce land values.
If approved the Mumblin Wind Farm would have 10 to 15 wind turbines generating enough power for 35,000 homes.
The wind farm is being proposed by RE Future, a Geelong-based company with a focus on developing wind generation in Victoria.
The company is Australian owned and investigates Victoria's wind topography and the state of regional electricity grids to "identify new and previously overlooked locations for the establishment of wind generation facilities", its website states.
RE Future mainly operates by securing development approvals and shipping the unstarted projects around to investors.
All the directors were former team members on one of Victoria's leading independent wind farm developers, Future Energy, which was acquired by a Germany company in 2017.
Elingamite North dairy farmer Linda Morgan said the rally to the hall demonstrated the depth of her community's concern.
"RE Future set it up for one-on-one consultations but it was an opportunity for us to bring our tractors and show this is agricultural land and we want to protect it," Linda said.
"We've written to the company and asked questions but had no response, so we've come here today to get some answers. This could have been avoided with earlier consultation."
Local resident Bob Donovan said south-west Victoria was home to an increasing number of wind farms but it was also a vitally important intensive agricultural region.
"There are a lot of people living in this area," Bob said.
"If the wind farm went further north, there are huge properties and they won't bother anyone."
The group has employed lawyer Dominica Tannock from DTS Legal in Melbourne, who successfully represented Bald Hill wind farm objectors in South Gippsland.